Hello the radiant and the female!
For a year I'm talking about vintage on my blog. And it was only this year that we see everywhere from the retro-inspired! Criticism also much this new trend by saying high and strong as the 1950s was an era of women objects, little outfits and mysogenie… yet I more or less agree with what has been said in the article of March 13 last on the site on retro photos Canoe.ca! "We invite women to identify themselves at a time when they were not considered. Is the message that to be beautiful, they dress in lingerie and they look like stereotypes", said Martin Dufresne.
Actually I think it's our time, although we have much more freedom than 60 years ago that does not. Last year, I wrote an article at the women's day – what I spoke of a certain club inviting young women to do oral sex contest (go read it right here)… And I find that in 2013, it is quite more exposed than in 1950. Yes there's business to be indignant, like the pub where – what is told that even a woman can open it or even where we see a husband spanking his wife (even in Elvis ' movies we see are kind of scene)! But I find that clothing was much more stylized and eroticism was there without falling into the bad taste of porn! What I like in the pin-up look with vintage style, these are the outfits, so women's dress, and high heels. And I love the makeup! Red lips, the "cat eye", the porcelain complexion and naturally beautiful as ever hairstyles!
If you did not, I work with a photographer from the beginning of the month of March which does photography Pin Up and Retro and instead of degrading it is very beautiful and classy. The name of this fantastic photographer, Robert Marchand! My "job" is to re-create makeup hair time and play also to the stylist.So I apply makeup to hide imperfections, intensifies the gaze, the stroke of liner, red lipstick, hair (curlers to the need, but above all many fixatives), Nail Polish Red nail for manicure and pedicure and finally help models to make the clothing choices to help them take a break! Then just for fun, because I love this colorful time I love to wear vintage dresses (I have 5 and seriously I would dress in 50's if I could!), I do my hair with victory rolls (or loops vintage), my favorite show is omb Girls and my beauty icons are Dita Von Teese and Christina Hendricks I'm a real 40s and 50! If you see the collection of music and movies and even book dating from this time, you capoteriez!
I show some photos which I participated as a makeup artist and hairdresser, and tell me what you think!
Personally I think it's much more sexy and classy than many others things we see on the net!
Plus as I said it's getting so trend! Proof, a range that I really appreciate, Pupa launches to spring a collection (what I have HYPER HASTE of TESTER!) called 50's Dream! I hood! I hood! I hood! (I think that I said not enough!) I hood on the look of the range, although I think it looks rather than 50s 60s!
I'll show you a preview, but it's clear that I'll talk about soon!
Luminys Silk (cooked and satin eye shadow)
"Technology "Baked" wet or dry Application
The rich colors and ultra chic $ 21 each
ULTRA SHINE EYELINER
Eyeliner Ultra-Brillant
For a very 50s look!
Long liquid formula required $ 18 each
MISS PUPA
Lipstick Ultra-Brillant
For soft and glamorous lips
Pastel hues and delicate for a style perfectly retro $ 20 each
COLOR TOUCH HIGHLIGHTER
Maxi illuminator effect good Mine
2 in 1: blush to cheeks and illuminator of Foundation for a "healthy glow" effect
Silky texture and sensory $ 29
LASTING COLOR
Nail Polish
4 new shades!
110 Rose White
215 candy pink
515 Spicy Orange
516 apricot $ 8
Then we turn vintage?
Gallery
Lauma Lingerie Felicita
Source: www.pinterest.com
Vintage toy baby carriage with wooden Rabbit Head
Source: www.pinterest.com
Natalie Singh https://www.etsy.com/listing/220524364 …
Source: www.pinterest.com
Eres MUAC?
Source: stylelovely.com
Go Stevie Nicks or go home black chiffon over dress lingerie
Source: www.pinterest.com
Pinup: Behind the Scenes
Source: phlearn.com
Pin-up style shooting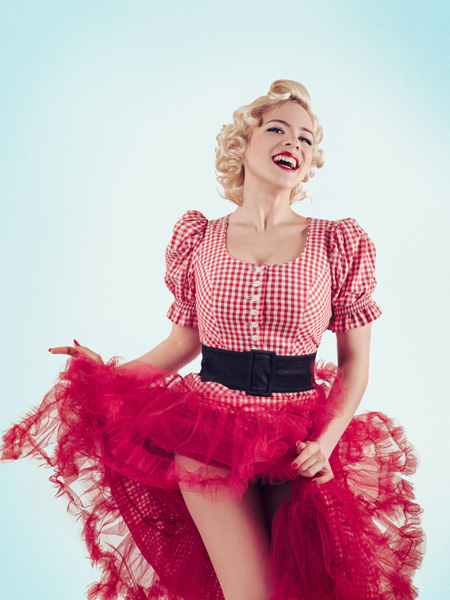 Source: www.gingergbh.com
Dress: 50s style, 50s style, 50s dresses, 1950s dress …
Source: wheretoget.it
1940s Pin-Up Girl Suit for Hunting Picture Poster Print …
Source: www.ebay.com
pin up
Source: mvbrg.wordpress.com
Classic Couture & Flashback Fashion « ATLRetro
Source: atlretro.com
Polka Dots: With Vintage Style You Can Never Go Out-of …
Source: himanijasmine23.wordpress.com
Prom Hairstyles For Long Hair
Source: www.beautifulhairstyle.net
Modern Pin Up Clothes
Source: pixshark.com
Pin up Girl Pictures: Gil Elvgren 1950's Pin Up Girls
Source: pinup-girl-pictures.blogspot.com
Pinup-Fashion.com
Source: pinup-fashion.com
Vintage Style Pin Up Girl Stickers P13 Pinup Sticker Decal …
Source: www.ebay.com
Pop Culture And Fashion Magic: Pin up art
Source: fashionandpopculturemagic.blogspot.com
Reo Ria
Source: lookbook.nu
Retro style hair and make-up
Source: es.pinterest.com